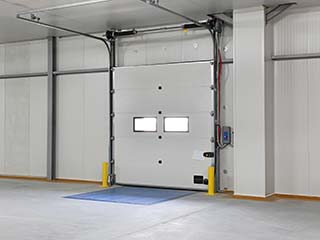 Garage door springs are often overlooked and not recognized as the crucial components that they are. Tucked away neatly at the edges of your door, it can be difficult for homeowners be aware of their condition. However, when they fail, they can cause serious damage to your door, make access to your home difficult, and may even be unsafe to use in some situations. That is why our team here at Garage Door Repair Highland is dedicated to ensuring that your springs are always in top condition by offering repairs, replacements, and maintenance services.
Garage Door Springs Replaced Fast
The last thing you want to do when a spring breaks on your garage door is to wait. Usually, this sort of thing happens when the door is in motion. Meaning, you either just left or just arrived. Either way, suddenly having to deal with a broken garage door spring isn't how you want to spend the next few hours. Well, good news! With help from the technicians at Garage Door Repair Highland, help can arrive ASAP. Our same-day broken spring replacement services ensure the fastest solutions (at the lowest costs too!). You can get garage door spring replacement completed in record time by getting in touch with our team first. With a new spring installed on your garage door, you can go back to your daily routine without any worries.
Replacing and Installing New Garage Door Springs
Our company works with parts from a variety of manufacturers. This means that we are able to source the exact type of garage door spring for your needs, even if they need to be tempered or galvanized for extra strength. Our solution is the most cost-effective, and our team has you covered with excellent products and even better services.
Maintaining the Condition of Your Springs
We can see to the long-lasting lifespan of your door springs by ensuring that they get the preventative and restorative maintenance that they need. With inspections, lubrication and timely replacements, our team will reduce the possibility of a broken garage door spring thereby saving you time and money.
Fast and Effective Repairs
When you need to have your overhead or extension garage door springs replaced, our team of technicians can have it done for you in no time at all. We have access to the parts, tools, and skills that you need to make the most of the job, so why not take advantage of our services?
Contact our technicians for further details
For further details on how Garage Door Repair Highland can assist you with replacing, installing, maintaining and repairing garage door springs in your home, contact one of our consultants.
Cheapest Spring Replacement For Highland Garage Doors
When dealing with unexpected problems, you hate to see sudden large expenses resulting from these issues. Not to worry, though. Our affordable garage door spring repair services offer you fairly priced solutions that won't break the bank. With top-quality replacements that come with very low price tags, you can get your door working again in a hurry. Getting new garage door springs installed shouldn't cost that much. And that's why we provide the most affordable broken spring replacement services near Highland UT. With our local technicians, you can have your garage door ready to work safely again very quickly. And it wouldn't cost you a fortune. It's always good to have someone nearby who can help at affordable rates. Whenever your garage door spring breaks give us a call and get a new one installed.
In addition, count on us for:
Garage Door Opener Track Maintenance
Screw Drive Opener Replacement
Torsion Spring Adjustment
Garage Door Off Track Repair