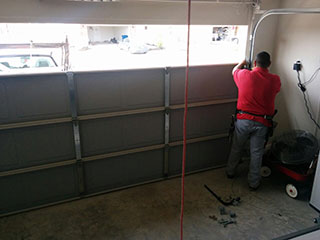 Can't Open The Garage Door
Problems that involve a stuck door in the garage can result from different problem causes. First and foremost, the opener. Garage doors with automatic openers rely on this motor mechanism to move. If the problem lies with the opener motor or its "brains", the logic board, it will not react when you press the garage door remote. Opener problems can also include a broken chain or a detached trolley. A garage door getting stuck when you try to open it can also happen because of bent tracks. If the roller pops out, the garage door tracks might have gotten damaged or too rusty. Whatever the case, Garage Door Repair Highland technicians near you can come help whenever you call. With same-day service every weekday or weekend, you always have recourse for unexpected problems.
Problem With Broken Garage Door Springs
Serving as the main muscles of the system, broken springs make for a big problem for obvious reasons. Can a garage door without springs open? Potentially yes, however, you'll do a lot more damage to the whole mechanism this way, so you ought to leave it alone. Finding a replacement for broken garage door springs is half the battle. Installing the new springs can require some experience and skill, as mishandling can cause serious harm. Not only to yourself, which is bad enough, but to the door as well. For quick broken garage door spring repairs in the Highland area, you've got our local technicians available. Remember to let us know whenever you have broken springs that need replacing.
Interior Mechanisms
The moving parts of a garage door include springs, rollers, and openers. The garage door is the heaviest moving object in a home - these parts must be in good working order to prevent accidents and possible damage. Our technicians are well versed in the five types of openers and two types of springs that may be powering your door. Openers themselves are made of individual pieces paired with a motor, all of which can have their own issues, such as stuck trolleys or jammed chains, but none of them will work if your motor has burned out. Your springs are what provide the counterbalance that aids the opener with its job, and a broken spring can result in a door that just won't move. The tracks and rollers are critical components when it comes to a smoothly lifting or lowering door, and they need to function smoothly whether you're opening your door manually or electronically. Let us diagnose your problem and solve it for you with fast, professional service.
Exterior Issues
Your garage door makes up a significant portion of guests' first impressions of your home. Sometimes, a door is physically damaged from a crash or a storm. Door panels can often be replaced, but it is best to leave this work to the professionals. A professionally repaired door can help you breathe easy, knowing that it looks and works spectacularly once more.
The Garage Door Repair You Need
Garage Door Repair Highland has the skilled expertise you need to repair any part of your garage door, inside or out. After a visual inspection, we can walk you through the wear and tear on your door so that you know exactly why and where your door is being serviced. We provide emergency and same-day service that can help get you back on your feet faster. Contact us to schedule a service call and review your options today.
Need Emergency Garage Door Repair Services Nearby Highland?
You can get fast and affordable solutions any day of the week! With help from local garage door repairmen in your area, any problem that comes up can get a quick fix ASAP. Urgency is important with problems involving automatic garage doors. You don't want to spend hours upon hours waiting for help or to have to call back again because the problem didn't get solved. That's why Garage Door Repair Highland emphasizes complete customer satisfaction every time. Call us whenever you need quick repairs for garage doors anywhere close by.
You can also count on us for:
Garage Door Opener Maintenance
Genie & Liftmaster Opener Services
Broken Spring Replacement & Repair